Welcome to the web pages of Wrawby, North Lincolnshire, UK...
Harvest Festival Service - Sunday 5th October at 11 am - see below...
Add your events to our Google Calendar - see Mag Page 4...
Mill & Church Tea-Towels - the perfect Christmas gift for Wrawby exiles!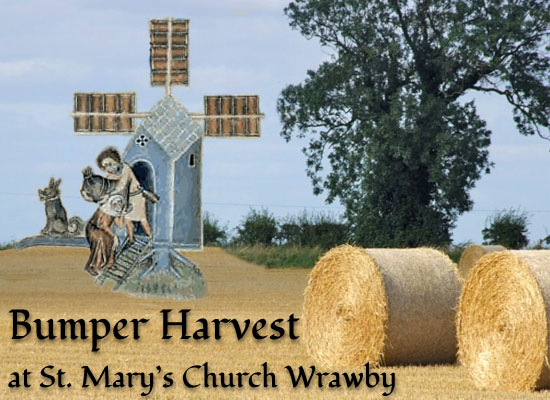 Mill detail from the Psalter of Sir Geoffrey Luttrell of Irnham, Lincolnshire, ca. 1340
There are two opportunities to celebrate the harvest this year.
A Harvest Thanksgiving Service will be held at 7.00 pm on Thursday 2nd October. A short Thanksgiving Service will be followed by a traditional Harvest Supper and raffle. All are welcome. Supper tickets are £5.00, with all proceeds going to St Mary's Church. Tickets are available from Sheila Neave Tel 658551, Marjorie Grisdale or Patrick Keilthy Tel 655360.
A Harvest Festival Service will be held at 11.00 am on Sunday 5th October followed by a Harvest Lunch. This will be a traditional Harvest Festival Service followed by a light lunch after the service. All are welcome at both the service and the lunch. Please come and join in at either or both events; you will be most welcome.

---
Church & Windmill Tea Towels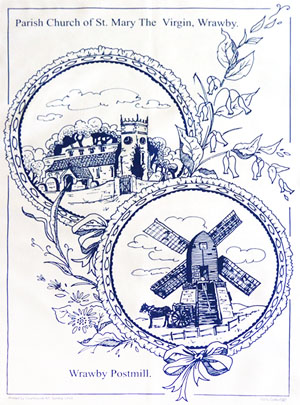 Are you looking for a unique gift? Souvenir Windmill and Church Tea Towels are now available again at only £4.00 – from the windmill on open days, Susan Day Tel 653699 or Patrick Keilthy Tel 655360.

---
1914 Remembered Exhibition & Web Site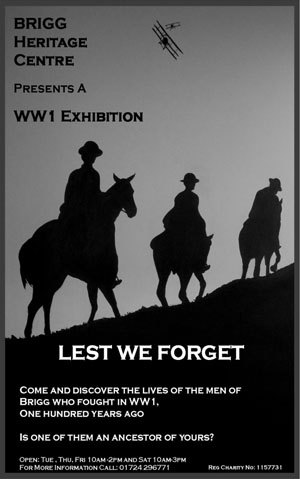 Following on from the very successful First World War commemoration event in the village early in August and as part of the national commemoration of the centenary of WW1, a website "Every Man Remembered" has been set up by the Royal British Legion and Dan Snow. The aim, as its title suggests, is to try to ensure that every man and woman who lost their lives as a result of the conflict is remembered by the placing of a virtual poppy beside their name on the website.
Wrawby History Group members would like to play their part in this by placing a poppy against the name of all those remembered in their book "Wrawby at War 1914-1918". However we are very aware that there may be descendants of the families of these individuals who would like to pay their own tribute – or perhaps there are others known to you, who you would like to remember in this way.
The website address is www.everymanremembered.org/ If you would like help with accessing the website or have any queries about this, the Heritage Centre at The Angel, Brigg, currently has a WW1 exhibition and facilities to research WW1 personnel, computers are available, and you may ask for assistance there.

---
Trekathon & Musical Evening for Macmillan - Thanks!
Just to let you know that we have completed our Trekathon along Hadrians Wall in aid of Macmillan Cancer Support on 16th August. We would like to thank every one who helped us raise a grand total of £1054.00 by sponsorship, donations and attending the Coffee Morning in July. Many Thanks again.
Amanda Locking & Julie Davis
Also the Magical Musical evening in September raised £708.15 at a very successful evening – sincere thanks to everyone who attended or helped.

---
Wrawby Mill

There are no more open days in 2014.
The Mill can be opened by special arrangement and souvenirs purchased at any time.
For all open days see Mag web page 4.
---

...this is page 1 of the latest Wrawby magazine - for the rest, click above, or use the Mag Pages buttons or the "Rest of the Mag" index above right.

---