Welcome to the web pages of Wrawby, North Lincolnshire, UK...
Harvest Festival Service - Sunday 5th October at 11 am - see page 4
Harvest Thanksgiving & Supper - 7 pm on Thursday 2nd October - see page 4
Barnetby Recycling Centre closed 17th September to 6th October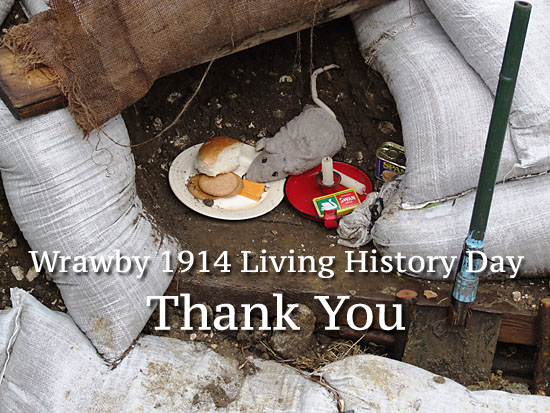 Photograph by Stephen Caldwell.
On behalf of the Wrawby Commemoration Committee, there are many thank you's that need to be made. So many people were involved in the successful planning and running of the weekend there are too many to name, however some people and groups do need a special mention.
Firstly to Mrs Green and the ladies of the Monday Afternoon group, who made an amazing floral tribute to those from the village who gave their lives in the war. Also to the History Group, who gave these men and women a face with their biographies. We would like to thank the church and Father Owain for their support and advice.
Next to Mr R Greenfield who dug our trench for us and to John Greenfield who turned it from a hole in the ground into a realistic experience for all who ventured in.
A big thank you goes to all the demonstrators and exhibitors who turned out on the Sunday, despite the weather, to make the day what it was and to Mr Lingard for opening his museum and the Mill for opening too. I would also like to make a special mention of the men who camped out overnight in the marquee to make sure it was safe.
Further thanks must to go to everyone who donated money, raffle prizes, time and advice in the run up to the weekend, those who volunteered in whatever way over the weekend and those who made the all the cakes!
Finally we would like to thank everyone who came to any of the weekend events especially those who braved the rains of Friday night and Sunday. We hope you enjoyed the events, learnt something and took time to remember the effect the war had on our community.
Although the event was not intended to be a money making venture, we are pleased to be able to say that thanks to everyone's generous support we do now find ourselves with a small surplus of money. This will be divided between the village groups and we will be able to give a breakdown of this in the next edition of Wrawby News.
Louise Tandon

Living History photos in our Gallery - click here!

---
Thanks from the Show Secretary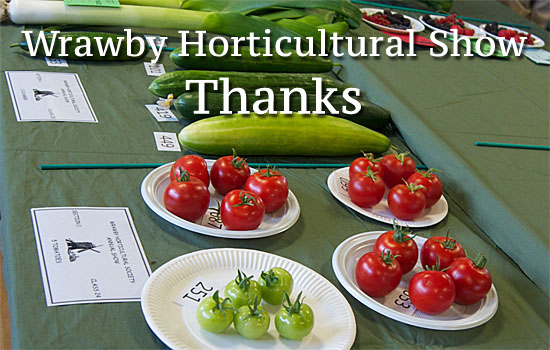 On behalf of Wrawby Horticultural Show, I would like to thank everyone who entered this year's show. Entries were up again at 489. Keep growing , taking photos and cooking and it may be 500 next year.
We had a great turn out and another auction was enjoyed by all.
My personal thanks go to all the committee members who helped with the Annual Show. I greatly appreciated everyone's help and support. I would especially like to thank Val, Sue and Postie Sue for all their hard work in the kitchen serving judge's lunches and teas and a big thanks to John, Sean and my mum for their support and help. Thank you to everyone who donated raffle prizes this year these were gratefully received.
Anita

2014 Show photos in our Gallery - click here!

---
Magical Musical Evening - Macmillan Cancer Support
Macmillan Cancer Support invite you to join them for a Magical Musical Evening from 5.30 pm onwards on Saturday 13th September in the grounds and marquee of the Mount Tea Rooms, Castlethorpe. Performances by local entertainers, raffle, merchandise, hot drinks and cakes to purchase. Jugs of Pimms on sale or bring your own drinks. Tickets £10 (includes pie and pea supper) £2.50 children (includes hot dog and chips) are available from The Mount or The Ivy Brigg. For more information phone Kath on 654576.

---
Wrawby Mill

There are no more open days in 2014.
The Mill can be opened by special arrangement and souvenirs purchased at any time.
For all open days see Mag web page 4.
---

...this is page 1 of the latest Wrawby magazine - for the rest, click above, or use the Mag Pages buttons or the "Rest of the Mag" index above right.

---