Welcome to the web pages of Wrawby, North Lincolnshire, UK...
Visit the Gallery page for a big gallery of Wrawby Show 2015 photos...
Add your events to our Google Calendar - contact the editors...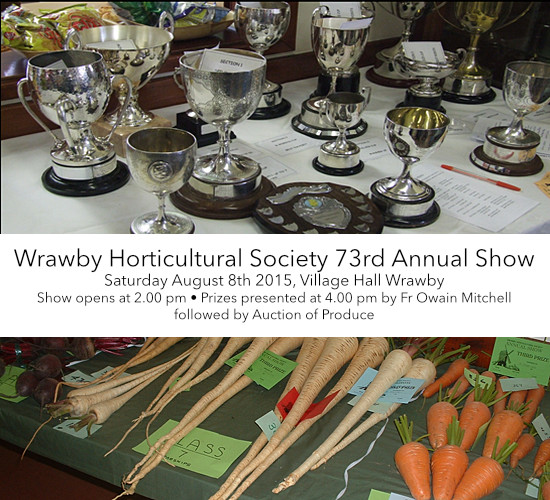 If you forgot to plant any seeds this spring then you've missed your chance to win a prize in the Vegetable classes at this year's Wrawby Show on Saturday 8th August. However there's still time to search the garden for something to enter in the Open Flowers section or don your apron to produce some jam, a sponge cake or one of the other items included in the Open Cookery classes.
There are 8 Sections in this year's Show. In addition to the three mentioned above you might be tempted by the Special Village Novice Class, Floral Art, Open Handicrafts or Photography. Section 8 covers the Children's Classes which include handicraft, cookery and photography.
This year the subjects for the adult photography classes are Sunsets and Unusual Aspects of Wrawby. In the children's section the subject is Pets.
The impressive prize silverware shown above includes a cup or shield for the most successful exhibitor in each class as well as cups for Best Exhibit in the Show and Most Points in the Show.
Even if you don't enter you can still view the exhibits, enjoy afternoon tea, buy some fresh local produce in the auction, and enjoy the special atmosphere at this traditional village event.
Programme and entry forms are available from Committee members and on Mag Page 4 of this web site.
UPDATE: Visit the Gallery page for loads of photos from Wrawby Show 2015!

---
WI CENTENARY CELEBRATIONS
Wrawby Woman's Institute is celebrating 100 years of the WI on the centenary day, 16th September 2015.
We are holding a tea dance in the Village Hall from 2 - 4 p.m. This is an open event and anyone from the village is welcome, including friends and family. So come on ladies and gentlemen dust off your dancing shoes and join us.
This is a ticket only event £5.00 to include afternoon tea. Contact Sue Baldwin 01652 657569 or Shirley Smith 01652 651221

---
Wrawby Mill

The Mill is open on Monday 31st August, from 2 pm to 5 pm.
For more details, see Mag web page 4.
The Mill can be opened by special arrangement and souvenirs purchased at any time.
---
...this is page 1 of the latest Wrawby magazine - for the rest, there are some quick links above, or use the Mag Pages buttons or the "Rest of the Mag" index above right.

---