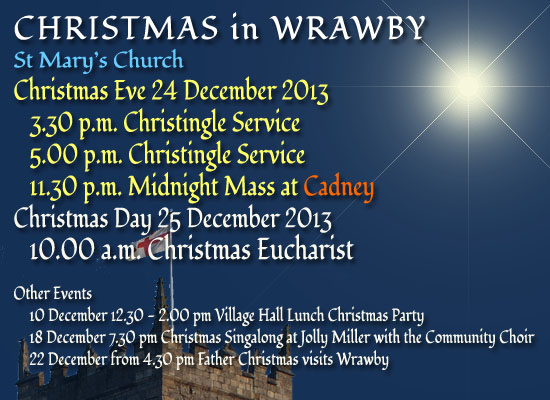 As the excitement builds towards Christmas residents of Wrawby will be able to enjoy many of the traditions that have developed around the village.
There will be a range of Church Services including the School Christmas Service, two Christingle and Crib Services and a Eucharist service at 10.00 am on Christmas morning.
Following last year's successful trial of 2 Christingle Services, this year there will again be two services - at 3.30 pm and 5.00 pm, both of which will be the same. This year the group Midnight Mass will be held at Cadney. The service starts at 11.30pm.
Once again there will be a Christmas Tree outside the Church, kindly provided by Wrawby Neighbourhood Watch. Also Father Christmas will be making a pre Christmas visit on 22 December, before his delivery on Christmas morning to those who have been good.
Further details of village events are contained elsewhere within this newsletter.
I have no doubt that many of you will have your own traditions to add to the list. I hope that amongst all the presents, food and parties that you will have time to remember the reason for the Festival, to celebrate the birth of Jesus.
Christmas Sing Along
with Wrawby Community Choir on Wednesday 18 December at 7:30 at The Jolly Miller. Mulled wine & sausage rolls available. Come & join us & get into the Christmas spirit.

---
Living History Day 2014

Next year will see the centenary of the outbreak of World War One and the 75th anniversary of the start of World War Two. To commemorate the lives of the men and women from our village who went away to serve the country and also those who lived through it, a weekend of living history events is being planned over the weekend of 8th - 10th August 2014. These events will hopefully include a candlelight commemoration, a flower festival, a village dance and a day of events to recreate 1914 Wrawby which will in- clude a history trail especially aimed at families. Many of the village organisations will be taking part and we would like to involve as many people as possible especially the younger population of the village.
At the moment we have a small committee who are planning the events. Do you have an interest in history and World War One in particular? Do you have any ideas for activities you would like to see? Are you able to help with either the planning or on the day itself? We would love to hear from you.
For more information or to have your say please call Louise on 653526.

---
Wine Tasting for the Mill in February

Wrawby Windmill Preservation Society will be holding another popular Wine Tasting evening on Saturday 22nd February 2014. Tickets cost £10 each. For more information please ring Susan Day on 01652 653699.
Further details will be published in the February magazine.

---
Wrawby Post Mill

There are no further open days in 2013.
The Mill can be opened by special arrangement and souvenirs purchased at any time. See Mag web page 3.
---

...to read the rest of the latest issue, click above or on the Magazine button.

---