Welcome to the web pages of Wrawby, North Lincolnshire, UK...
Visit the Gallery page for a big gallery of Wrawby Show 2015 photos...
Harvest Festival service Sunday 4th October at 11 am...
Add your events to our Google Calendar - contact the editors...
SUCCESS FOR LOCAL MARTIAL ARTS TEAM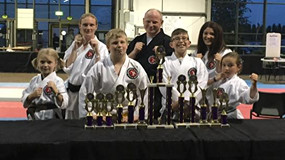 On Sunday 13th September 9 students from Koku-Ryu Martial Arts travelled to Newark Showground to compete at the Unity International Games 3. This is one of the biggest events held in the UK with over 500 competitors. They took it by storm and came away with 14 trophies. Andrew Banks Sensei, Sue Lambert Sensei, James Keatley, Hannah Taylor Sempai, Natasha Eardley and Amelia Drayton were all placed in various categories.
Andrew Banks Sensei and Natasha Eardley also qualified for the night show which was an amazing achievement.
All Team KRMA and the supporters who were there are very proud of each student who went on the mats on Sunday.
Team KRMA are now training hard for the next competition which is on 4th October for Revolution Tournament held in Doncaster.

---
Harvest Thanksgiving Festival 4th October at St Mary's
A traditional harvest festival service led by Bishop David Tustin will be held at St Mary's Wrawby at 11.00 am on Sunday 4th October. There will be an opportunity to bring harvest gifts, which will be distributed in the village at a later date. Following the service, everyone present is invited to stay for a harvest lunch in the church.

---
ROSS' FUND RAISER QUIZ NIGHT 16TH OCTOBER

Ross Tandon is fund raising to travel to Bolivia in 2016 on a World Challenge Expedition with Sir John Nelthorpe School. The expedition involves trekking in the Andes and taking part in a community service project.
The first part of the challenge is to raise funds for the trip.
Friday October 16th, 7.30 pm Wrawby Village Hall
A fun South American themed quiz with spot prizes for teams or couples.
Tickets £6.50 per person (including snacks) from Louise on 653526.
Bring your own drinks.

---
MACMILLAN CRAFT DEMONSTRATION

On 14th October 2015 at 7.00 pm, Brigg and District Committee of Macmillan Cancer Support are having a CRAFT DEMONSTRATION AND WORKSHOP in Wrawby Village Hall by Julie Wright of the Craft Cabin at Brigg Garden Centre.
BRING AN OLD PAPERBACK BOOK AND TURN IT IN TO SOMETHING SPECIAL!
Tickets are £5 including refreshments.
Tickets are available in the village from Anne Croft (01652 658091) or from the Tourist Information Centre, Brigg, or by phoning 01652 654675 * 07512 761157 * 07783 017641.


---
Wrawby Mill

There are no more open days in 2015.
The Mill can be opened by special arrangement and souvenirs purchased at any time.
For more details, see Mag web page 4.
---
...this is page 1 of the latest Wrawby magazine - for the rest, there are some quick links above, or use the Mag Pages buttons or the "Rest of the Mag" index above right.

---