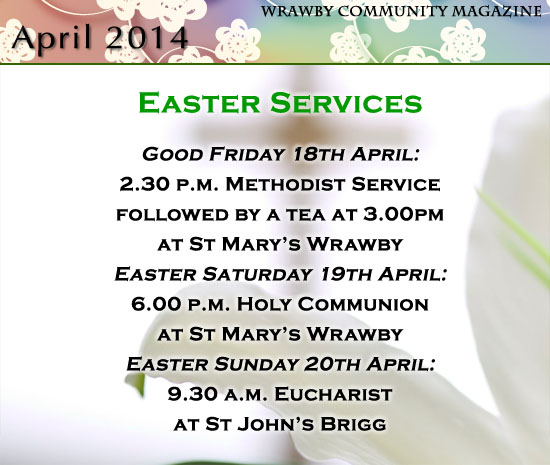 ---
History Group Church Tour

An afternoon discovering the secrets of Wrawby Church on Saturday 26th April at 2.00 pm for £2 per person. As part of Wrawby History Group's research into medieval Wrawby, we have asked Mr. Richard Clarke to "walk and talk" around Wrawby Church highlighting the medieval features both inside and outside the building. We would be very happy for you to join us.
Please contact Wrawby History Group on 653315 to let us know you are coming.

---
Village Hall Lunches Meeting on 5th April
We would like to thank those who responded to last month's notice. There will now be a meeting at 10.30 am on Saturday 5th April in the church to try to arrange a short series of lunches during May. Anyone who feels that they can help in any way or with ideas for taking the Lunches forward would be very welcome. Attending the meeting does not infer any further commitment although that would be much appreciated. If you are unable to attend but would still like to be involved please contact Patrick on 01652 655360 or email the editors.
---
Your Opinion on the Park
See the article on Mag web page 2 and download the questionnaire!

---
Wrawby Mill

OPEN DAYS 2014 (2-5pm)
The first Mill Open Day of 2014 is:
The Mill can be opened by special arrangement and souvenirs purchased at any time.
For all open days see Mag web page 3.
---

...to read the rest of the latest issue, click above or on the Magazine button.

---