Welcome to the web pages of Wrawby, North Lincolnshire, UK...
Santa Visits Wrawby on 20th December - see route in Quicklinks below...
Remembrance Day Service Sunday 8th November at 10.45 am...
Add your events to our Google Calendar - contact the editors...
REMEMBRANCE SUNDAY
Remembrance Sunday, which is 8th November in 2015, is a day for the nation to remember and honour those who have sacrificed themselves to secure and protect our freedom.

---
PLEASE SUPPORT L.I.V.E.S.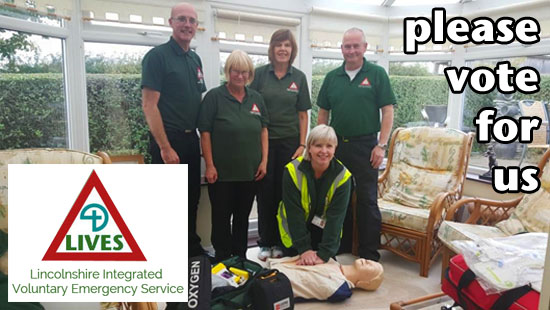 From Thursday the 12th November in the Scunthorpe Evening Telegraph, in partnership with North Lincolnshire Council a prize fund of £15,000 will be made available to local community groups. Each registered group will receive a share of the £15,000 prize fund based on the proportion of the total coupons collected. The more coupons we receive as a group the more funds for our organisation. We would be very grateful if you would take your time and vote for Elsham & District LIVES, supporting us with this opportunity. We are a non-profit organisation so all funds received will go towards supporting the our group.
Thank you.
Living in Lincolnshire gives us many pleasures. Being surrounded by rural countryside and living in quiet communities is what we enjoy about Lincolnshire. However when someone you know needs urgent medical attention, you need to be sure of a rapid 999 emergency response. Getting there quickly can give those extra few minutes that are vital to the patient, and it could mean the difference between life and death.
LIVES Medics & First Responders are all volunteers who give up their time to respond to emergencies in their community. So when you dial 999, not only will an ambulance be mobilised, but at the same time, the LIVES Medic or Responder on call in your area will also receive notification that you need their help.

---
CHARITY LUNCH AT ELSHAM

A Charity Lunch in aid of Christian Aid is to be held at Elsham Golf Club , on Thursday November 12th, 12.30 pm for 1.00 pm The cost is £20.00. Our guest speaker will be Ms Judi Perry, Area organiser for Christian Aid. Tickets from Sheila Neave 01652 658551 or Mickey Brittain 01652 652160.


---
Wrawby Mill

There are no more open days in 2015.
The Mill can be opened by special arrangement and souvenirs purchased at any time.
For more details, see Mag web page 4.
---
...this is page 1 of the latest Wrawby magazine - for the rest, there are some quick links above, or use the Mag Pages buttons or the "Rest of the Mag" index above right.

---