Welcome to the web pages of Wrawby, North Lincolnshire, UK...
Christian Aid Week is 10th-16th May...
Local/national elections 7th May, use your vote!
The Mill is open twice this month, see below...
Add your events to our Google Calendar - contact the editors...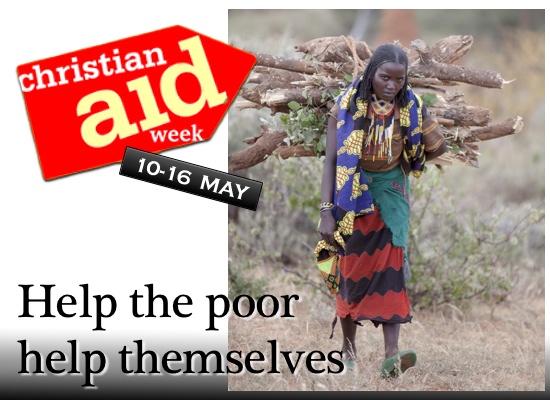 This Christian Aid Week, you can help transform the lives of women like Loko, pictured above. From 10-16 May, churches the length and breadth of Britain and Ireland will come together to pray, campaign and raise money to improve the lives of people like Loko.
Every year, 100,000 volunteers demonstrate God's love for the poor by taking part in house-to-house collections for Christian Aid. In Wrawby, volunteers will deliver envelopes to every house in the village during Christian Aid Week. Sadly this is not the case in many communities where a lack of willing volunteers and/or a poor response from householders means that door-to-door collections are dying out. Please continue to support the team of collectors and give what you can to this worthwhile cause.
Loko's choice in life is simple: "If I can't collect firewood, my children will die.'
Four times a week, in a remote corner of Ethiopia, Loko makes a back-breaking eight-hour trip to gather wood. It's a task she dreads, but she steels herself to do it because if she doesn't her children will starve.
Loko prays to God as she walks. 'I ask him to change my life and lead us out of this,' she says.
Just £5 could give Loko a loan to start her own business buying and selling tea and coffee, freeing her from her desperate task and allowing her to spend more time caring for her family.
Two years ago, Adi was the poorest of the poor. Then Christian Aid provided a cow which gave her family nutritious milk. Adi churned butter and made money. It gave her a position in the community where her opinion is valued. Now her dreams have turned into plans and she has saved enough money to build a small shop. 
Please give generously.
Photo credit: Christian Aid/M Gonzalez-Noda

---
OPEN GARDENS in aid of CHRISTIAN AID
On 14th June 8 gardens in Wrawby will be open from 1.00 p.m. to 4.30 p.m to raise additional funds for Christian Aid. The Church will also be open and cream teas will be served in one of the gardens. Other details are still being finalised and we will provide more information in the June magazine. If you would like your garden to be included please contact John Stanton, Tel. 651221.

---
JOIN the LUNCH BUNCH

The latest round of Village Hall Lunches started on 21st April when 25 guests enjoyed homemade soup, bread and cheese as well as homemade fruit loaf. This round of lunches continues every Tuesday at 12.30 pm in the Village Hall until Tuesday 12th May. Everyone is most welcome. All profits from these lunches will be donated to the Wrawby Christian Aid Campaign.

---
Wrawby Mill

The Mill is open on Monday 4th May and Monday 25th May.
For all open days of 2015 see Mag web page 4.
The Mill can be opened by special arrangement and souvenirs purchased at any time.
---

...this is page 1 of the latest Wrawby magazine - for the rest, click above, or use the Mag Pages buttons or the "Rest of the Mag" index above right.

---