Welcome to the web pages of Wrawby, North Lincolnshire, UK...
The Postmill has abolished admission charges!
The 2016 Mill Open Days are available - see below...
Add your events to our Google Calendar - contact the editors...
SANTA AND HIS NEW TEAM OF HELPERS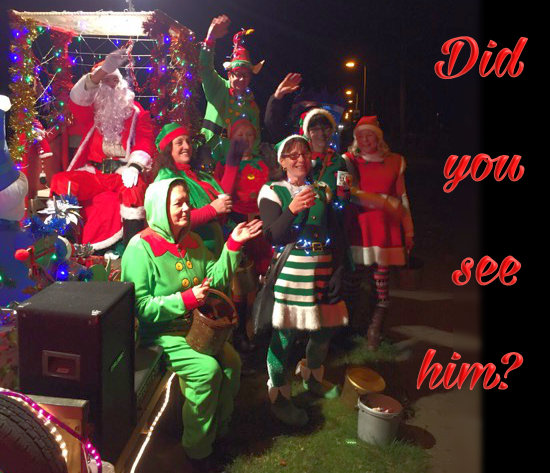 Santa made his annual trip round the village on Sunday the 20th December. He and his helpers had a fantastic time and we hope you enjoyed it too. This was the first tour of duty for our group and we were grateful for the support and advice given by our friends from the Neighbourhood Watch. Lots of people came out to see us, cars beeped their horns at us and some even stopped to let the children out to see Santa.
There are some people we need to thank. The event cost a total of £164.05 which included the cost of the Santa suit, lights and decorations, sweets and public liability insurance.
The following people sponsored the event with either cash or materials, Brigg MOT, Tesco, Wilkos, Card Zone, Design Orchard, Brigg Garden Centre and Kath and John Fearnley. Nappa did sterling work fundraising in the Jolly Miller as well as in his starring role on the day.
Thanks also to Wrawby Neighbourhood Watch for providing the Christmas Tree outside Church.

---
CHRISTMAS CONCERT

The Village Hall Committee held a Christmas Concert in mid-December which was greatly enjoyed by those who came. The Scunthorpe Concert Band played many seasonal pieces & the audience got involved by singing along with some of the popular tunes. Father Christmas made an appearance and gave sweets to the children.
Refreshments were served at half time & the raffle was drawn. A profit of £113 was made for the Village Hall funds and thanks must go to those who supported this event, gave raffle prizes and to the committee members who helped on the night. Everyone left the hall feeling really festive and ready to enjoy Christmas!
Anyone wishing to book our lovely hall for an event of any kind should contact Susan on 01652 653699.

---
KEEP ON LUNCHING

Wrawby's Village Hall Lunches will continue on Tuesdays February 2nd and 9th.
All lunches start at 12.30 p.m. and everyone is welcome to come and enjoy homemade soup with bread and cheese followed by home-made fruit loaf.


---
Wrawby Mill - Free Admission!

The first Mill Open Day of 2016 is Monday 28th March.
The Mill can be opened by special arrangement and souvenirs purchased at any time.
See the rest of the 2016 dates and more details on Mag web page 4.
---
...this is page 1 of the latest Wrawby magazine - for the rest, there are some quick links above, or use the Mag Pages buttons or the "Rest of the Mag" index above right.

---