Welcome to the web pages of Wrawby, North Lincolnshire, UK...
Scunthorpe Concert Band in Village Hall, 19th Dec at 7.30pm, see Mag page 2...
Pre-School Job Advert Download: see Mag page 4...
Add your events to our Google Calendar - contact the editors...
Christingle Services 3.30 and 5.00 pm Christmas Eve...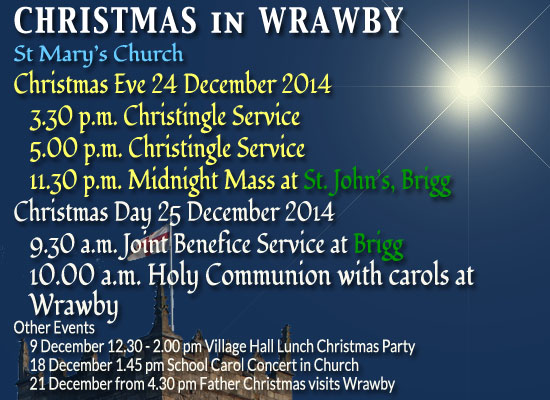 ---
Village Hall Lunches

The pre-Christmas Village Hall Lunches got off to a very successful start on Tuesday 18th November with 33 "diners" and helpers enjoying homemade soups, bread and cheese and a special fruit loaf. The lunches will continue at 12.30 pm each Tuesday until the special Christmas Lunch on Tuesday 9th December. Everyone is very welcome. We are pleased to confirm that the lunches will return in January for 4 weeks starting on Tuesday 20th January - same time, same place!

---
The Coffee Morning Plus Christmas Goodies!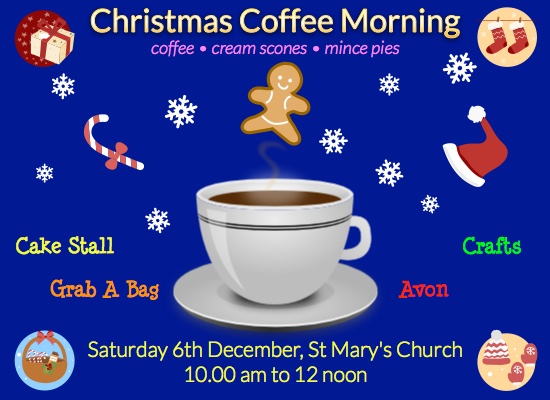 ---
Wrawby Mill

There are no more open days in 2014.
The Mill can be opened by special arrangement and souvenirs purchased at any time.
For all open days see Mag web page 4.
---

...this is page 1 of the latest Wrawby magazine - for the rest, click above, or use the Mag Pages buttons or the "Rest of the Mag" index above right.

---